CONSTRUCTION
Litany Energy has ability support construction by undertaking full responsibility of full or part of structures and facilities under construction by provision of skilled craft, specialized tools, support supervision including middle management staff covering quality and safety functions which will integrate with main construction team complying with project policies and goals in terms of schedule, quality and safety in a cost effective manners.

Litany Energy Services core group comes with a vast experience in terms of Construction for onshore and offshore facilities either downstream or upstream. We have well proven system and resources in place to execute construction of our EPC projects or stand alone construction supports.
We can execute sizable onshore chemical/petrochemical facilities involving with turnkey project execution.
We also support construction offshore with smaller or medium size work scope supporting clients in overall development of offshore facilities.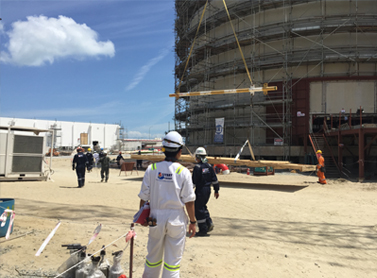 Our overall execution of construction phase covers our ability to support clients in Asia/Pacific region covering developments and Services like:
Mobilization of multi-discipline resources of all levels
Installation steel structures like pipe racks/modules/piping/insulation/HVAC/E&I
Installation of Equipment/Modules/Assemblies on FPSO/FSO/FSRU etc
Erection of Tanks and associated storage facilities
Supply of Site Services like Laser DC surveys/machining/scaffolding/coating & painting
Supply of support vessels/barges/tugs and expertise for offshore operations
Supply of equipment and resources for pre-com and commissioning activities
Support services for FAT and SIT for Subsea Production Systems
Repairs of vessels/ships/Rigs/MDUs etc.